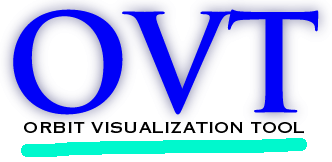 Orbit Visualization Tool (OVT)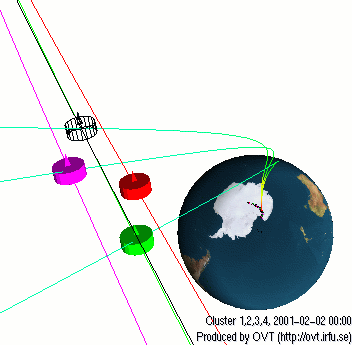 What is OVT?
The Orbit Visualization Tool (OVT) is a software for visualization of satellite orbits in the Earth's magnetic field. The program can display satellite orbits in five coordinate systems (GEI, GEO, GSM, SMC, GSE), satellite footprints projected on the Earth's surface and shown in either geographic (GEO) or geomagnetic (SMC) coordinates. In addition to satellite orbits the software computes and displays various models of magnetospheric structures, magnetopause, bow shock and electric potential, geomagnetic activity, and interplanetary field conditions. The models are time-dependent through user-editable activity files, which control models structure and properties. The program can be used to plan operations or interpret measurements from scientific satellites, to prepare ground-based satellite coordination, or as educational tool in astronomy and geophysics.
News
November 2, 2022 There is a non-installer update available for supporting both GEI (J2000.0) and GEI (epoch-of-date). Follow the relevant instructions in the User Guide to install this update. See Release Notes for a more complete list of potential problems and workarounds associated with OVT 3.0.
April 29, 2016 OVT 3.0 is available for download.
October 27, 2009 OVT for Mac OS X (Universal) is available for download.
June 28, 2007 Up to date orbital data for OVT can be found at the JSOC OVT support page .
Show old news